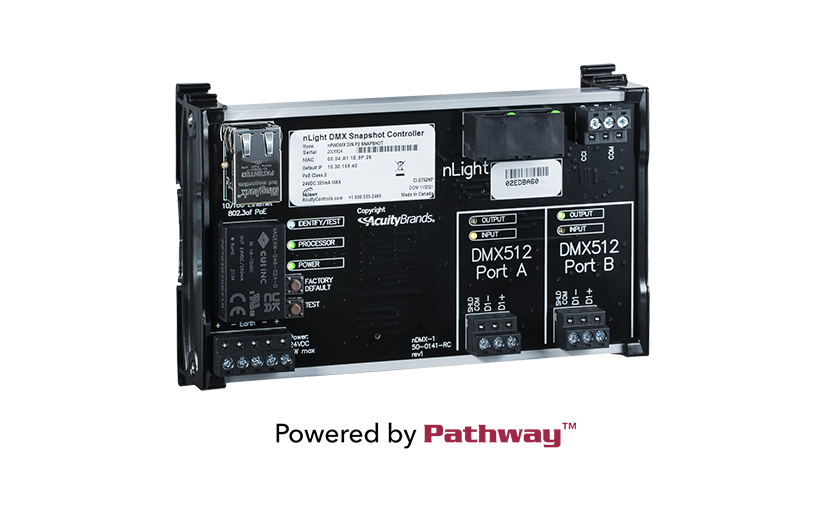 nLight with DMX Control
nLight networked lighting control platform has added DMX512 control with the nLight Snapshot Controller. The nLight Snapshot leverages the power of nLight with DMX512 control from Pathway Connectivity Solutions® for a simple and unified solution.

The nLight Snapshot Controller is the gateway linking nLight controls and DMX512 products, enabling easy, bi-directional communication between DMX and nLight. Through this device, nLight Wired controls (i.e., wall switches or sensors) can directly control theatrical DMX lights, and the DMX lighting control console can dim or turn off the nLight controlled lights or initiate scenes.
nLight controls devices and Pathway products can now work together to provide your DMX solution for RGBx Lighting.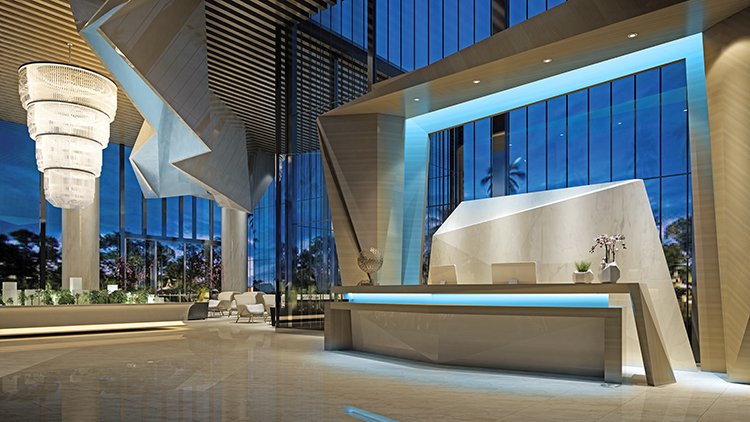 Spaces in schools, offices, hotels, and building facades need lighting solutions that are creative, functional, and aid in code compliance. The nLight Snapshot Controller leverages the power of nLight and Pathway controls in a simple and unified solution.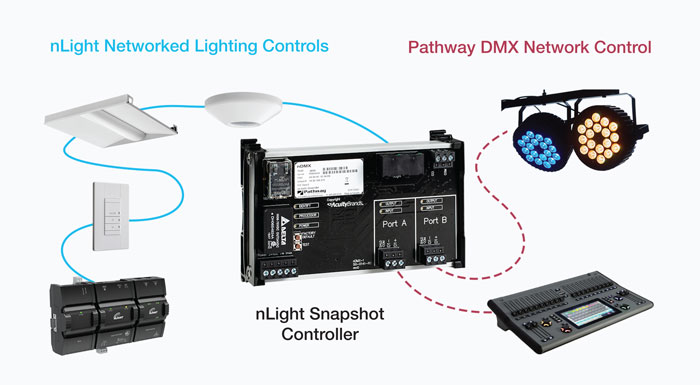 Features:
Ability for nLight to trigger up to sixteen DMX snapshots for RGBx applications
Any DMX control console the ability to control nLight Wired devices
Determines the priority of commands, nLight or DMX, based on sequence of operations
Secure Pathway DMX Networking, California Title 1.81.26 compliant
Add the nLight ECLYPSE™ to trigger a scene that includes one of the 16 outputs (DMX snapshots) to illuminate an RGBx interior space or outside façade. Also, the nLight ECLYPSE allows for building management system (BMS) integration to seamlessly change the colors.
Setting an Industry Standard – Networked Lighting Controls and DMX
Now that you know nLight can speak DMX with the innovative nLight Snapshot, learn more about Pathway, and its DMX networking expertise and industry leadership. Design and install RGBx lighting applications offering seamless operation with two-way communication between nLight lighting controls and theatrical DMX controls. Use Visual Controls design software to help you design and specify projects with nLight lighting controls and Pathway DMX networking gear.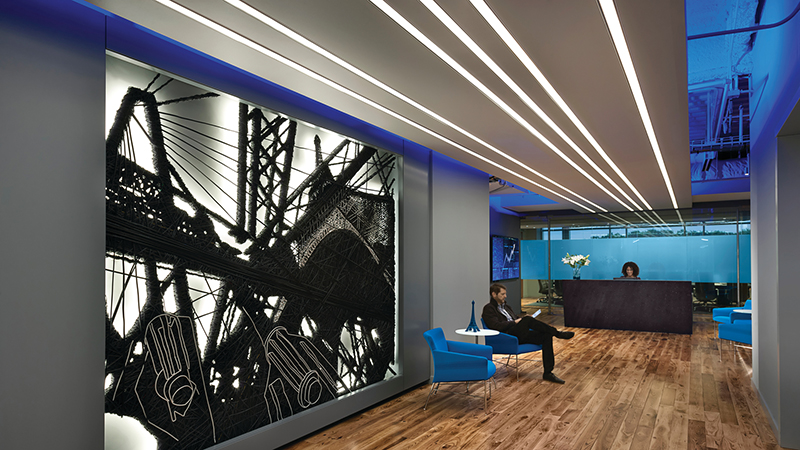 Complete the Solution with Pathway DMX Devices
Many jobs with DMX controlled lights require additional support devices such as opto-splitters and data receptacles. The next step in your lighting project is to include the Pathway product portfolio to complete the solution.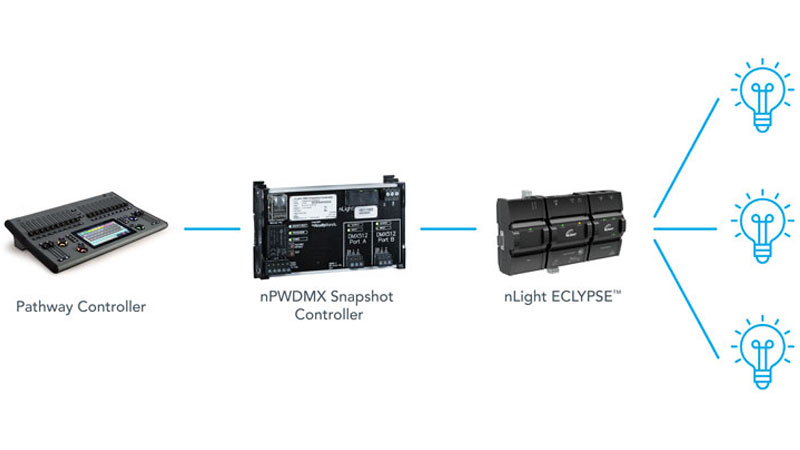 Pathway Connectivity Solutions is your dynamic DMX lighting network backbone for projects that include commercial DMX and high-end entertainment lighting control systems.

Pathway products are the backbone of lighting systems in schools, museums, touring shows, theme parks, cruise ships, houses of worship, production studios, theaters, and dynamic architectural environments.
Complementary Software for DMX and Networked Lighting Control
The nLight Snapshot Controller requires a toolset of free software solutions, including SensorView and Pathscape™, for ease of configuration and commissioning.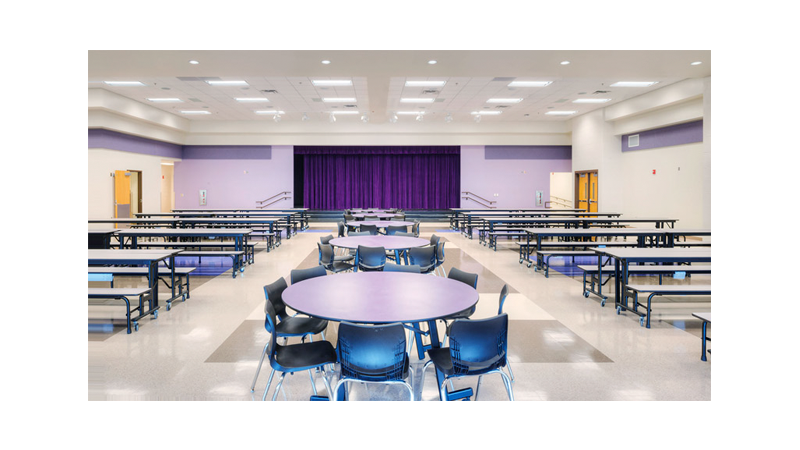 nLight Snapshot appears in SensorView as a device with 16 outputs and 1 input (composed of 16 virtual wall switches and 16 scenes).
Pathscape is used to configure 16 DMX snapshots that respond to nLight outputs and can route DMX channels to nLight channels using theatrical console fade rate. The console can also trigger nLight profile or preset scenes.